Sea Shepherd x Souls of Rock
With pride and great pleasure we present you the Swiss Made collection "SEA SHEPHERD ROCKS!"
It marks a milestone in our common journey for environmental protection and social responsibility. It embodies the perfect fusion between Sea Shepherd's relentless commitment to protecting our oceans and Souls of Rock's philosophy of respectful textile manufacture.
SEA SHEPHERD ROCKS!
Pre-order only until October 15th.
6 ladies and 9 gentlemen sizes in 3 lengths each.
Swiss Made - Manufactory in Switzerland.
Delivery at the end of November.
Up to 30% goes to Sea Shepherd.
Exclusive Swiss Made Ladies Collection
SEA SHEPHERD ROCKS!
for the ocean 🌊🐋
Exclusive Swiss Made Gentlemen Collection
SEA SHEPHERD ROCKS!
for the ocean 🌊🐋
About the collection
The Swiss Made collection " Sea Shepherd Rocks! " is deliberately only made especially for you upon pre-order, so we avoid one of the biggest problems in the textile industry, namely overproduction.
At the same time you get complete transparency from us, because your garment...
- is 100% traceable from the field to the screen print using a QR code
- knows complete price transparency
- shows you the remarkably high added value in Switzerland
We don't like to do things by halves and that's why a unique 25 to 30% of your purchase goes directly to Sea Shepherd , for the oceans, what else!
In addition to our product guarantee, we also offer you our repair service and our Resense program so that your product does not end up in landfills in Africa, Chile or the sea.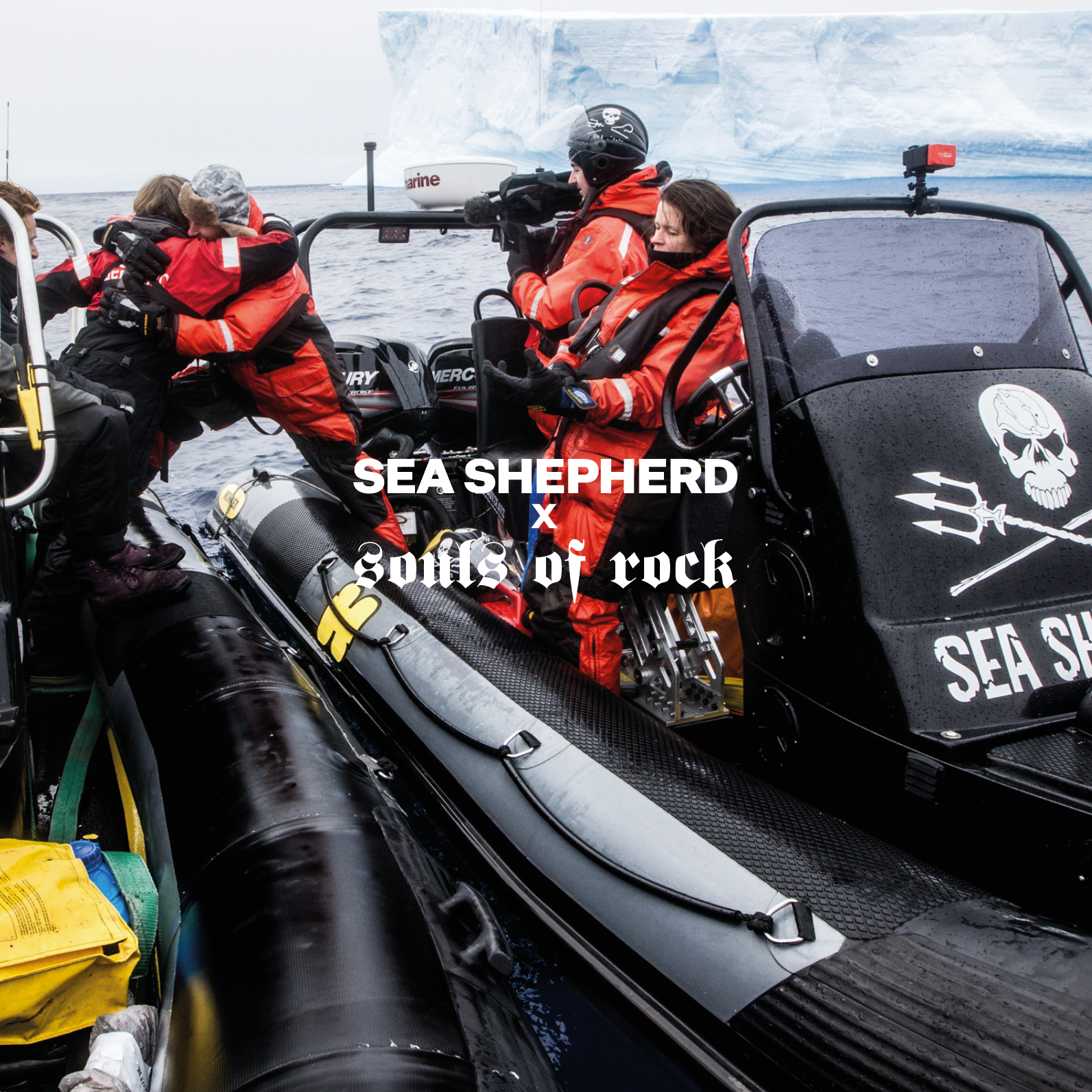 About the collaboration
Sea Shepherd x Souls of Rock is a perfect match.
Sea Shepherd is supported by the biggest rock and metal bands and musicians worldwide. Aerosmith, Gojira, Red Hot Chili Peppers to name a few.
The "Sea Shepherd Rocks!" Collection honors rock 'n' roll and the tireless efforts of the countless Sea Shepherd volunteers to protect the oceans.
The joint collection wants to inspire you to work for clean oceans and the respectful manufacture of textiles.
"Sea Shepherd Rocks!" a statement for the oceans and the people.
About Sea Shepherd
Mission: Defend, protect and conserve oceans
Protecting vulnerable marine life and stopping the destruction of our ocean habitats. Since 1977, Sea Shepherd has used innovative tactics to defend, protect and preserve the ecological balance of our oceans and to enforce international law.
SEA SHEPHERD WEBSITE